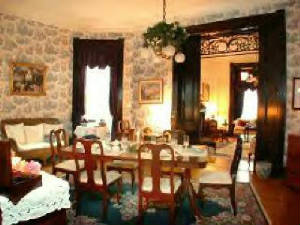 Our Dining Room
Breakfast at the Aleksander House is a real treat. Served between 8:00 and 10:00 am, it may consist of Belgium Waffles with fresh strawberries and real whipped cream, Grand Marnier French Toast or Dutch Apple Pancakes smothered in slices of carmelized Granny Smith Apples. Or it might include one of out many egg dishes, such as Tomato-Onion Quiche, Croissants au Gratin or Eggs Benedict. The meal begins with fresh orange juice and a choice of cereals or granolas, yogurt and fresh fruit. It may include special fruit dishes, such as Pears Poached in White Zinfindel or Hot Ginger Peaches.




Grand Marnier French Toast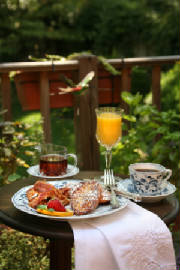 photo/robin goetz
A full breakfast is served daily from 8-10 am. A continental is available between 6-8 am and must be ordered ahead of time. Our dining room is furnished with Queen Anne furnishings, white lace table linens and napkins, Victorian antique silverware, and fine china. The walls are covered in French Toile, and a lovely oriental rug covers the beautiful hardwood.
Special Diets:
*We specialize in foods and dishes for Diabetics, Celiacs and Vegans as well as low fat and high protein diets, and dairy-free. Please let us know at the time of booking. We will be happy to try and meet your needs.
Sample Breakfasts
Vegan: Tofu scramble with fresh vegatables, crispy potato pancakes, toast with vegan marjarine, vegan muffin, fresh fruit
Vegan: vegan pumpkin pancakes topped with banana slices and a praline sauce, vanilla soy yogurt, orange juice
Diabetics: Omelets with fresh vegetables and cheese, bacon, sour dough toast, home-made sugar-free muffins
Diabetics: Spinach-herb Quiche, Kentucky ham, croissants, sugar-free jam, fruit (if permitted)
Celiacs: Herbed eggs with cheese, bacon, non-gluten toast, non-glutin carrot-raisin bran muffin, orange juice
Celiacs: Zucchini and onion Fritatta with salsa, sour cream and wheat free corn chips, Kentucky ham, wheat free corn-bread, fresh fruit.
Heart healthy/low fat: Omelets or herbed eggs made with egg beaters, whole wheat toast with choletorol-free margarine and strawberry jam, turkey-free bacon, low-fat cranberry-orange muffins, fresh fruit





First Course: fresh fruit, home made granola and muffins or scones, assorted cereals, juices, fresh ground European and french roast coffee and hot tea.
Second Course: consists of one of more of the following
Eggs (scrambled, herbed, cheese or poached, )
Wheat, or sour dough toast, biscuits or English muffins
Bacon, sausage or ham
French toast, pancakes or waffles.
Omelets or quiche
Assorted jams and jellies, and lemon curd
Specialities of the House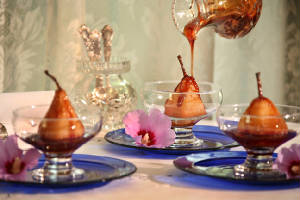 Pears in white Zinfindel:Photo/Robin Goetz
This week's recipe
5-minute Vegan Pumpkin Pancakes
1 C flour (any kind), 1 tsp sugar, 2 tsp baking powder,1/8 tsp salt, 1 C soy or almond milk, 2 TBL vegetable oil, 2/3 eight-oz can of pureed pumpkin
Heat griddle or iron frying pan to medium heat. Combine dry ingredients. Add soymilk and vegetable oil and mix well. Add pumpkin and mix until blended and smoothe. Ladle one spoonful of batter (pancake size) into pan, or several onto griddle and cook until bubbles appear on top of pancake or edges start to crisp. Flip pancake and continue cooking on other side. Repeat until all batter is gone (makes: 6-8 pancakes)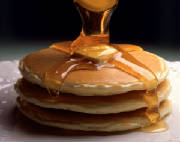 Vegan Pancakes
Top pancakes with sliced bananas and a praline sauce made with maple syrup, brown sugar, butter and chopped pecans