We try to keep our recipes original, although sometimes we start with an idea from a recipe we've gotten from a magazine, cookbook, the internet or a friend. We will test it, then make changes, sometimes major changes, to make it our own.




Banana Crepes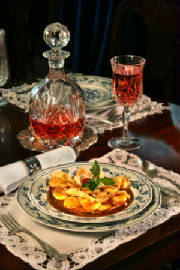 photo/robin goetz
prep time: 30 minutes
Ingredients
Crepes:
2 eggs
1 C milk
3/4 C sugar
pinch of salt
3/4 C flour
6-8 tsp butter, divided
Bananas:
4 TBL butter
1 C brown sugar
2 oz banana liqueur
4 oz dark rum
gd. cinnamon, to taste
3-4 bananas
Garnish:
Whipped cream
raspberries
mint leaves
Instructions
In a medium-size mixing bowl, whisk together eggs, milk, sugar, and salt. Add flour and beat until smooth. Let stand for 30 minutes. Melt 1 teaspoon of butter into the center of a small crepe pan or skillet and roll to cover the bottom of the pan. Pour 1/4-cup batter into the pan. Lift and turn the pan until the batter covers the bottom. Cook until lightly browned, turning to brown on the other side. Remove the crepe to a wire rack or wooden cutting block and cover with a paper towel. Repeat with remaining batter, adding butter to skillet when needed. Stack crepes with paper towels separating each crepe.
To prepare bananas, melt butter and add brown sugar. Let caramelize over medium-high heat for approximately 5 minutes. Stir in liqueur and rum. Add cinnamon and stir until warm. Add bananas. Gently stir to coat bananas with sauce.
To assemble
Place two crepes on each serving plate. Ladle approximately 8 to 10 banana slices with rum sauce onto each crepe. Roll to enclose fruit and drizzle sauce over the top of each crepe. Top with whipped cream, a couple of raspberries, and a mint leaf. Serve immediately with bacon, orange juice, and coffee. Yum!
Variation: May also be served as a dessert with wine.
Variation: Apples, peaches or pears may be used instead.
Yield: 4 servings (serving size: 2 crepes).





Spinach-Cheese Quiche
Prep time: 20 minutes
Ingredients
1 pie crust
3 cups baby spinach leaves
1/2 C thinly sliced onion
2 cups assorted shredded cheeses
basil, dill salt & pepper
1/2 tsp red pepper
5 eggs
Instructions
Fit pie crust into med-large sized
quice pan. Chiffonade spinach. Mix
with cheeses, basil, dill, salt and
peppers. Press firmly into pie crust.
Blend eggs and pour over spinach-
cheese mix. Bake in a 375 oven
fifty-fifty five minutes.
Serve with fruit and mini
croissants.
Pears in White Zinfinfdel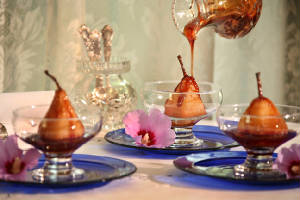 photo/robin goetz
Pears in White Zinfindel
8 pears
2 C White Zinfindel
2 TBL lemon juice
1 C sugar
2 tsp cinnamon
zest of 1 lemon
1 tsp vanilla
Creme Fraiche
mint leaves
Peel pears and then core from the bottom up, leaving the stems intact. Set aside. In a deep saucepan, combine wine, lemon juice, sugar, cinnamon, lemon zest, and vanilla extract. Bring to a boil. Add the pears with stems up, and scoop spoonfuls of liquid over them. Simmer until pears are tender, 10 to 20 minutes. Remove pears and place in individual serving dishes. Strain liquid and boil until reduced by half. Pour wine sauce over pears and let cool. Serve with crème fraîche on the side and garnish with mint leaves.
Yield: 8 servings.